As you know, we love trying all the latest and greatest products when it comes to beauty. This is called "Twin Tested" after all. This year we have been pleasantly surprised by a few products. Here is a list of our top 5 favorite finds:
1. Ulta Contouring Powder Kit: We jumped on the contouring band wagon this year and there is no turning back now. This kit is super affordable from Ulta Beauty and comes with a guide that makes the application fail proof.
2. NAKED Eye Palette: Matte, matte, matte! We will never go back to using anything other than this eye palette.
3. Unite Expanda Volume Root Booster: Our genius, hair painter Aubrey gave us this product. It has now become a necessity every single day. It works as a dry shampoo/root booster/hairspray all in one. AMAZING.
4. Eyelash Extensions: What a blessing! We found a new friend that is able to keep our lashes on point while at the same time acting as our therapist. Score! No, but really we are so thankful for the time these save us every single day.
5. Red Carpet Manicure: We have said it once and we will say it again. If you are looking to save money in 2016 – do your nails at home! We love this kit and our nails look great for 2+ weeks at a time.
Hope this list helps!
xo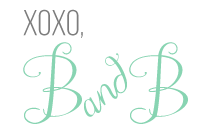 Share and Enjoy