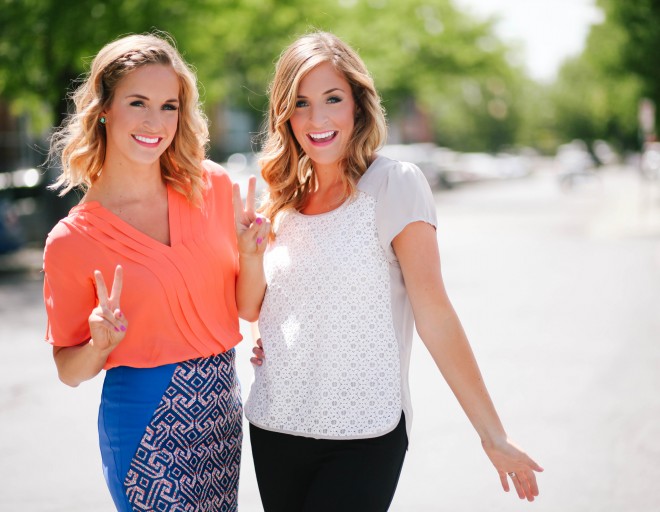 Hi! We are identical twins Brooke and Brittany. We grew up in Salt Lake City and wore matching outfits until we walked into junior high and realized it wasn't cool anymore. We started this blog as a place to post our TV segments for our grandmas to watch and it has turned into so much more. Thank you all for reading, we appreciate your love and support so much. We currently host a show called "The PLACE" on Fox 13 in Salt Lake City. You can watch it Monday – Friday at 1pm. This blog is a place for us to share a little glimpse into our lives and the things we love. Here are some Frequently Asked Questions we wanted to share.
Q:How did you both end up working in the media?
A: Growing up we loved watching the news. While we were in high school we decided to do an internship at a local news station during our senior year. After that internship we took a tour of the broadcast program at Brigham Young University and were sold. During college we actively tried to discourage one another from pursuing journalism so that we wouldn't end up in the same major because we are twins and that's just weird. However, we are so glad things worked out the way they did because we love working together.
Q:What is your best advice for someone trying to get into the media world?
A: Do as many internships as possible (Britt did 4) and try to surround yourself with good mentors. It also helps to have a twin by your side that is your biggest cheerleader! We are always trying to come up with new ideas and push each other to do things we have not done before. Feel free to message us if you have any questions or requests and hopefully we can help!
Q: What blogs do you enjoy following?
A: We have tons that we love, but our forever favorites are: The Pioneer Woman, Cup of Jo, and Cupcakes & Cashmere.
A: Yes, we are! Brittany and Sam got married in 2012 and Brooke and Parker got married in 2014.
Q: Do your husbands get along?
A: Yes, they do! In fact, Britt's husband Sam is the one who gave Parker Brooke's number. They are the same age and both sports fanatics so it has worked out quite nicely.
Q: What's your favorite project that the two of you have done together?
A: Now that we have been in the business for 5 years we have had so many amazing moments to experience together! Of course, we love covering The Grammys in L.A. every year. We also had a great time hosting our own travel show last year. We are most passionate about trying out new products that our viewers and readers will actually care about. We love having people tell us that our segment or blog post helped them out in some way.
Q: How do I contact you if I have an idea for Twin Tested?
A: You can go

here

to our contact form and fill it out.