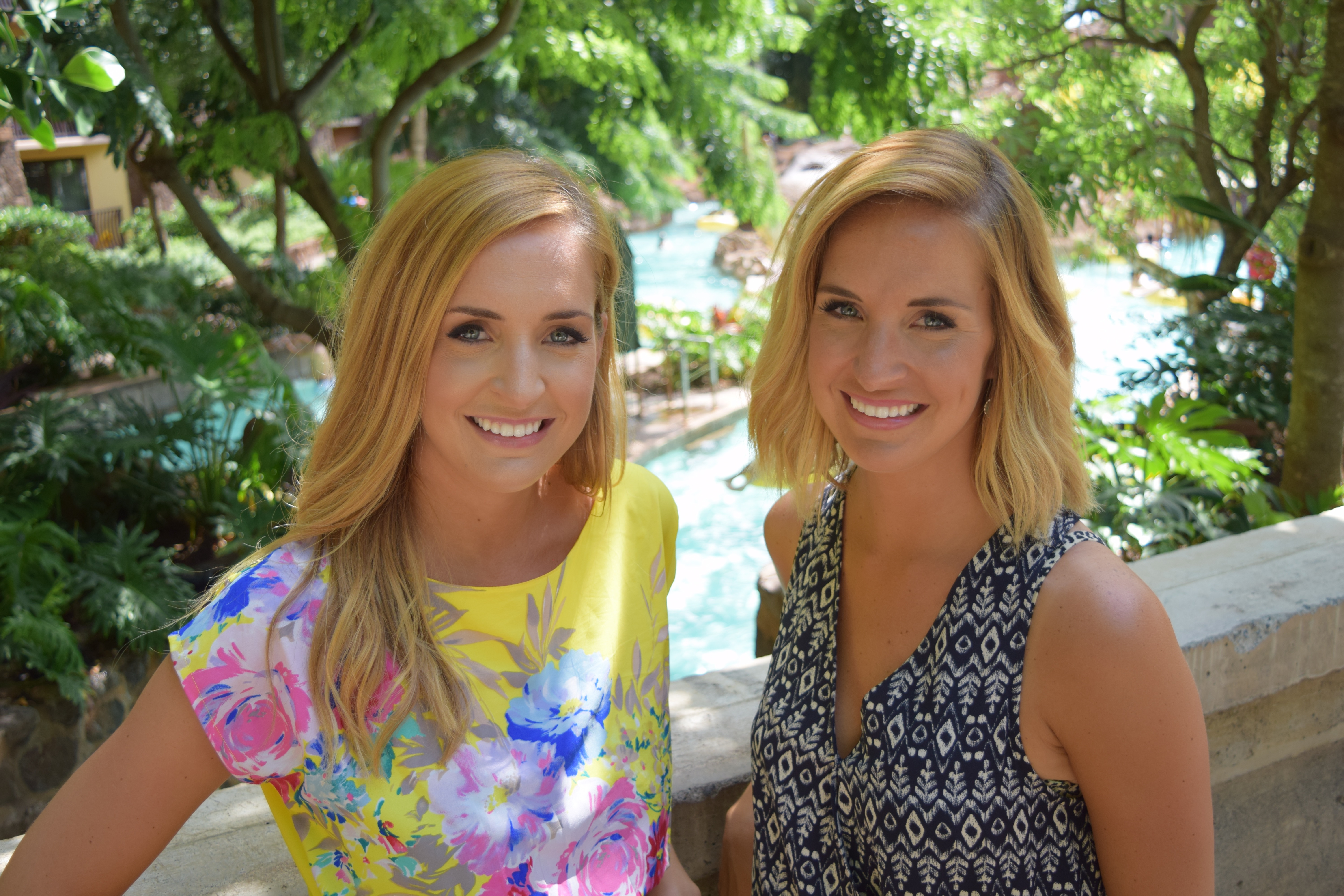 We had such a blast "working" in Hawaii! We spent four days at the Disney Aulani Resort & Spa on the island of Oahu. It exceeded all of my expectations. Brooke told me it would be amazing, and it really was! One of the highlights was the food. It was different from what you can find at the Disney parks, but also had a fun Disney touch. Here are a few of our favorites: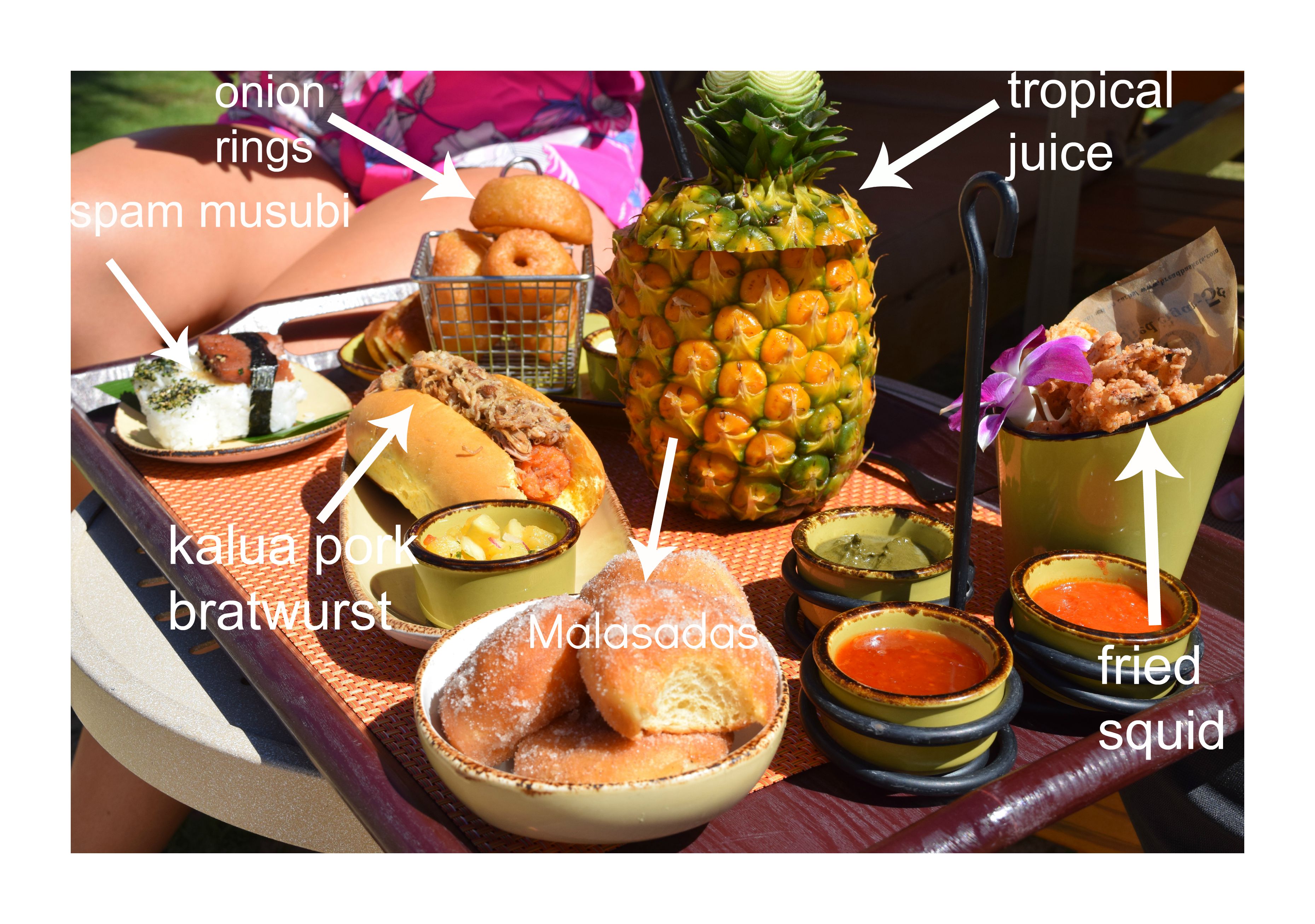 This photo is from our "fun food" segment during the shoot. I was forced to try each item and they were all delicious! From left to right:
Spam Musubi: this is a hawaiian delicacy. All of the locals we talked to loved this and regularly ate it. I had never tried spam, and thought this particular dish tasted sort of like sausage, in a good way.
Kalua Pork Bratwurst dog: this was Brooke's fave. She loves kalua pork and they put it in quite a few of their dishes at Aulani. A much more fun take on the regular old hot dog.
Malasadas: donuts without holes. These are little balls of heaven. I could have eaten all of them. They taste like a glazed donut covered in sugar.
Fried squid: I loved the saltiness of crunchiness of this one. Paired with one of the three dipping sauces, you can't go wrong.
Sweet Maui Onion rings: I'm not an onion rings lover, but these taste very different from the ones I'm used to. They have thick slices of sweet Maui onions with a thin breaded and fried shell. I'm not sure what they put in the dipping sauce for these, but it is what makes the whole thing work.
Tropical juice in a pineapple: just as good as it sounds! It just tastes like Hawaii and you can't go wrong drinking out of a pineapple when you're on the island.
This is not your average snow cone. They fill the bottom with your favorite flavor of ice cream, then add the flavored ice — I got lychee flavor and it reminded me of a sour starburst, then they top it with sweetened condensed milk!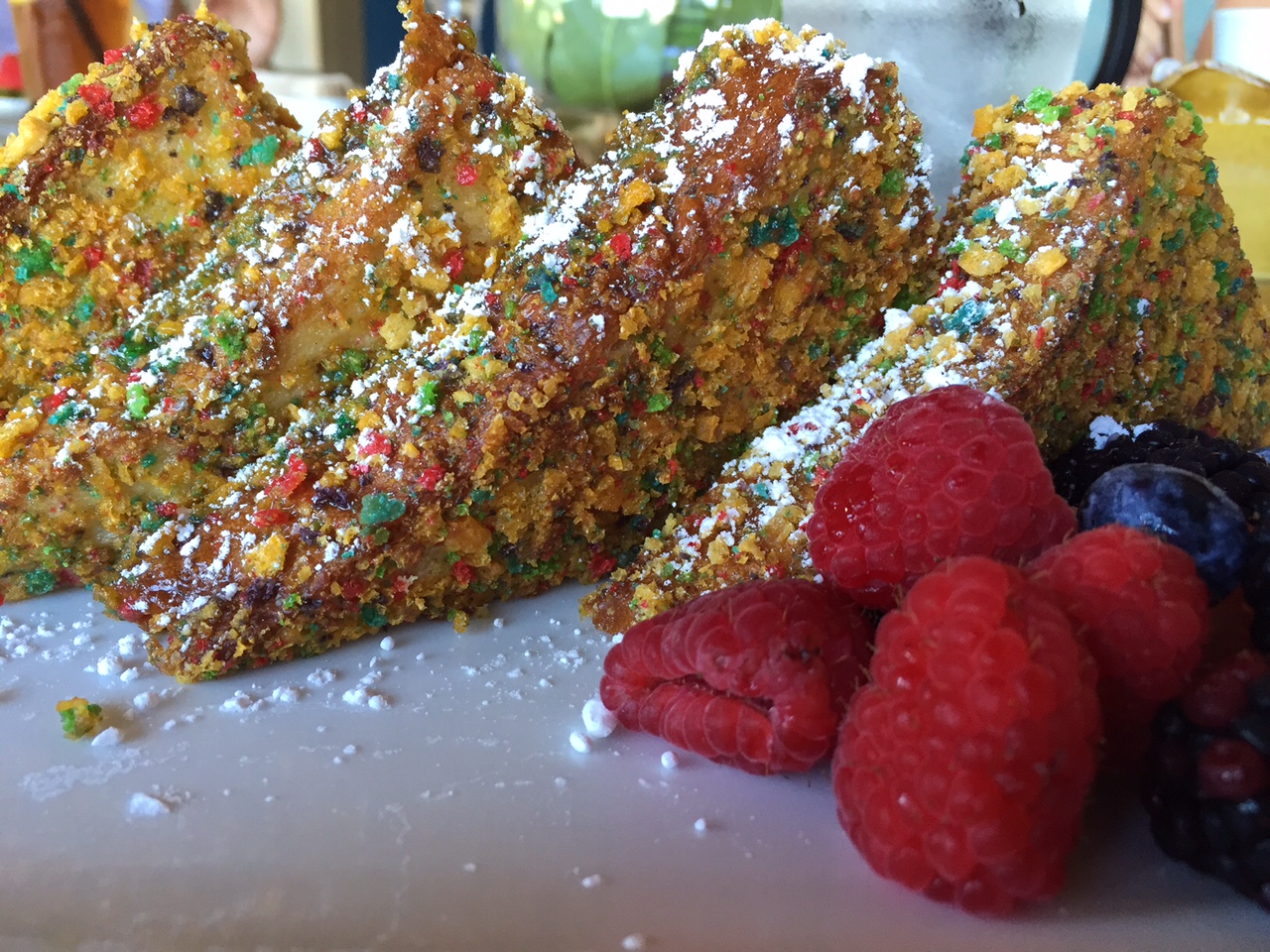 This is the Crunch Berry Crusted French Toast from Ama Ama — to die for! It has so many unexpected textures and flavors, I loved it.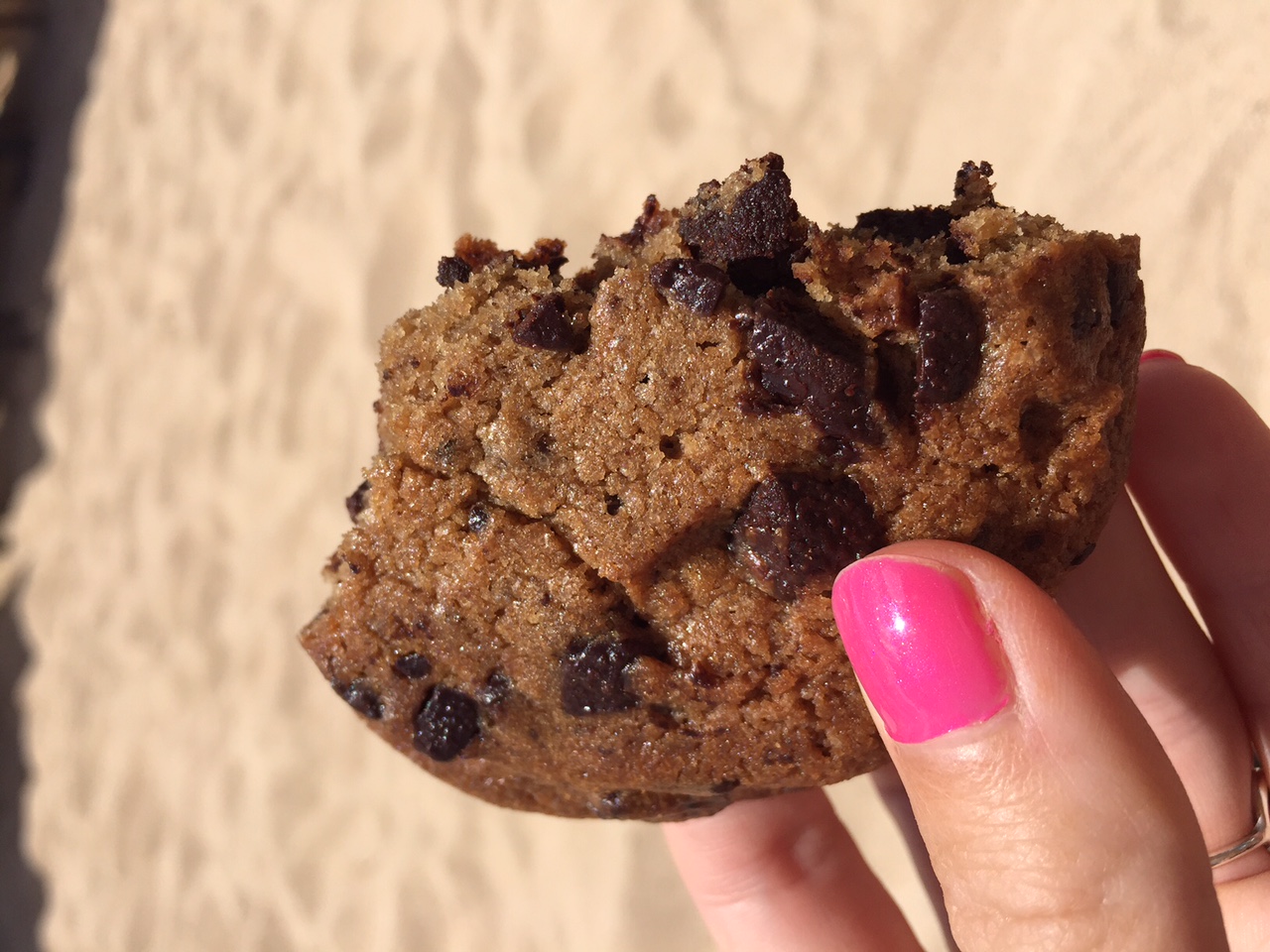 Don't worry, we found the cookies! They had these delicious cookies waiting for us when we arrived, do they know cookies are the way to our hearts, or what? They were extra chocolatey, thick and chewy. We ate at least one a day, don't worry!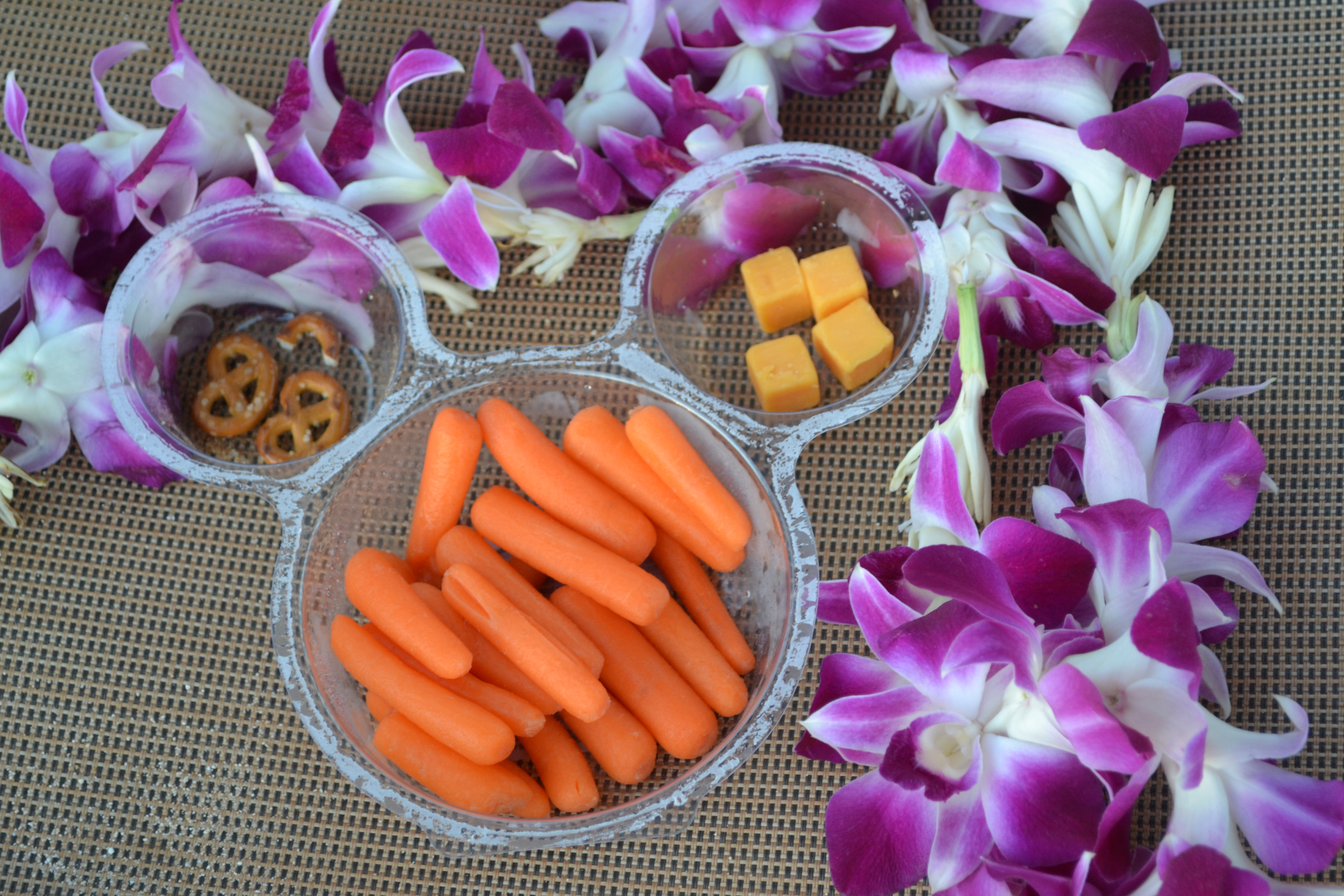 Things to Know about Food at Aulani
– There's Dole Whip! It's only available in one spot in the pool area, but you fill up the cup yourself, which was SO dangerous for me trying to pile it four feet high!
– Ama Ama is one of the fancier restaurants and it is delicious. You can tell everything is made fresh, it is my first choice of place to order fish at Aulani. I ordered the catch of the day (and took a dark flash photo that is too ugly to show you) and was really impressed by the quality.
– Minnie Mouse rice krispy treats: Brooke survived on them last time she was at Aulani and they are SO good! Available in some of their quick restaurants.
– They have mugs available to buy for $18 or $19 where you can fill them up an unlimited amount of times during your stay. If you're into soda or lemonade, this is a great option because there are filling stations all over the resort.
– Their restaurants have live music in the evenings, so even when you are done eating, you have great entertainment.
If you ever get the chance to go to Aulani, GO! It is a total dream!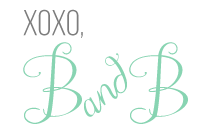 Share and Enjoy