I realize I am 27 and am supposed to be totally over shopping at Forever 21, but that store just sucks me in every time! I should be embarrassed and tell you that I only buy designer, but that would be a big, fat lie! I stay away for a while and then I find something absolutely amazing and wonder how I don't go there weekly! I recently ordered a bunch of clothing online and found some incredible things, so I thought I would share. The key is definitely shopping online. They have a much bigger selection on their website and you don't have to dig through piles of crappy clothes to find things you like. So, here are the things you need to buy right now: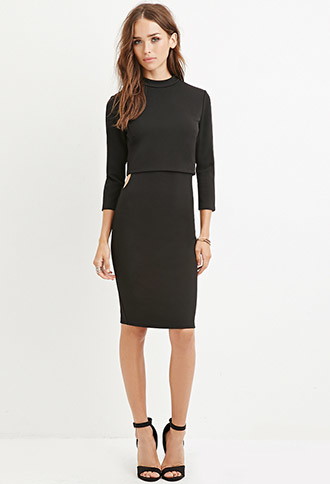 Layered Cutout Midi Dress $19.90
I totally realize this dress has cutouts and I am not into showing my bare love handles, so a little backstory: I wear a black wide elastic band on my waist to hold my microphone at work everyday. So, when I tried this one on, my elastic perfectly filled the cutout holes and voila! a work appropriate dress that fits like a glove.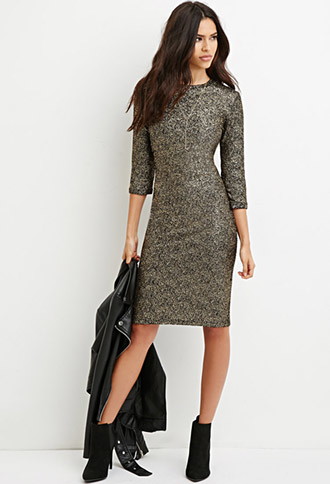 Metallic-Flecked Bodycon Dress $24.90
Do not let the word BODYCON scare you away on this one! It is very forgiving, especially in the tummy area which I LOVE because it means I don't have to suck in all day long. It's a nice thick fabric and perfect for the holidays.
This one looks like it should cost at least $100 when you see it in person. The fabric is high quality and the fit is super flattering. I love the way the belt cinches in at the waist and it's LONG! Like over the knee, no problem long. That is a win in this tall girl's book. It definitely shows off some cleavage, so I just wear a little tank underneath.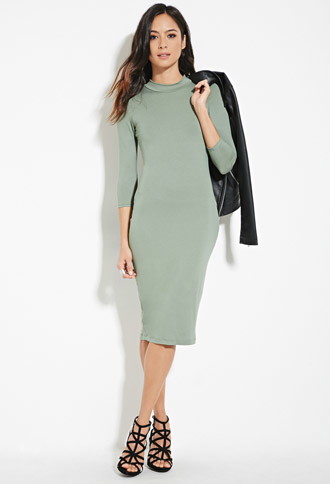 Mockneck Bodycon Dress $27.90
I'm all about that mockneck this year. I honestly don't know why it's taken 30 years for it to come back in style. I think it's really pretty and feminine. This dress is what you think of with Bodycon, so order at least one size up or it will be snug. I love this pretty green color and think it would be flattering on every skin color. This one is a web exclusive.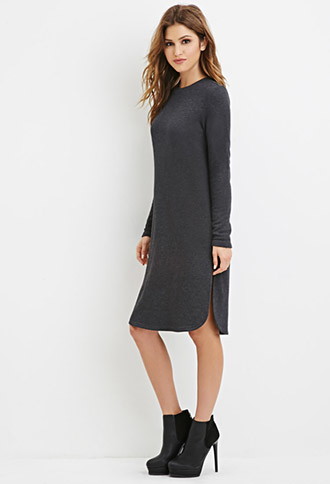 Dolphin Hem Sweatshirt Dress $24.90
Saturdays. Leggings. Boots. That's all you need for this dress. Comfy and cute all at the same time! Love the cute rounded dolphin hem.
Happy Shopping! Send over any treasures you find because you know I'll love them.