Let's go back to 2006…
Brooke was Senior Class President, I was Senior Class Vice President.
This meant we had one HUGE responsibility… planning Prom.
We researched, organized, and worked for an entire school year to create the perfect Prom.
The only problem? We needed dresses…preferably that did not make us look like Josie Grossie ala Never Been Kissed.
We found a secret little store that offered runway dresses for dirt cheap. Awesome.
Fast forward to 2011…
We were asked to do a fashion segment on Prom.
Our favorite little secret store is now closed…which made it a lot harder.
Luckily, it was on April Fool's Day, so we got to have a little bit of fun.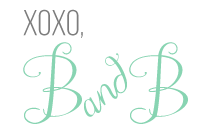 Share and Enjoy