We got a challenge from our friends at Fresh Living.
Find an entire outfit for
$40.
So we searched… and found WAY too many options.
Here are our final two outfits:
Brooke's outfit: Shirt: TJ Maxx $7 Necklace & Bracelet: Forever 21 $8 Skirt: Cotton Blossom $15 Shoes: Charlotte Rousse $10
Britt's Outfit: Shirt: Ann Taylor Loft $5 Earrings: Forever 21 $4 Jeans: Forever 21 $9.80 Shoes: Forever 21 $18.50
Our 3 Rules:
1. Never buy ANYTHING full price. It will go on sale.
2. Go straight to the sale rack.
3. Be Creative.
We had so much fun with this segment, and while we were putting it together realized almost every outfit we wear is less than $40. It is totally possible if you are just willing to look around a little. Word to the wise: Ann Taylor Loft is a treasure chest right now! Go check out their sale section!
You can watch the segment here.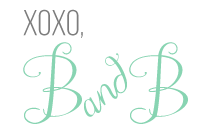 Share and Enjoy