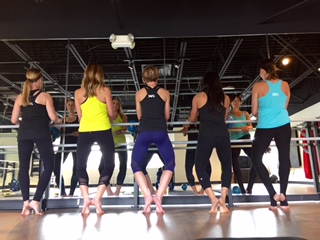 As many of you know, Brooke and I have recently become obsessed with Barre and Pilates class at Xcel Fitness. Most people are familiar with Pilates, but Barre is a somewhat new workout. I have been asked more than once why I'm going to go to a bar to workout and not drink. So, here's a little explanation about what Barre class is if you've been wondering:
- You workout at a ballet barre, not necessarily doing ballet, but it is ballet-inspired
- You never lift heavy weights, the maximum is 3 pounds, but oh my goodness it feels like a million at the end of the workout!
- It's great for any age group (we recently had our Mom try it out and she was terrified, but she keeps coming back!)
- You don't have to be a good dancer (we grew up dancing, but there is no choreography or technique that you need to know before you begin taking classes)
- It makes everything high and tight. We originally tried it out after hearing several of our fit friends say they had never done a workout that lifted their booty more than Barre and it's true, lots of the moves are targeting towards lifting your "seat", the Barre way of saying bum

- It's a full body workout
- It's fun. Seriously, we have kept going because the one hour classes fly by.
- Your legs will shake uncontrollably the first time you try it – that's a good sign it means your muscles are working!
If you want to switch it up with your workout routine, try it and let us know what you think! Promise it's better than running on the treadmill