Orange Theory Fitness has made its way to Utah! It's the only workout we know of that focuses on your heart rate to get results. We decided to test it out. Here's 10 things to know about Orange Theory Fitness: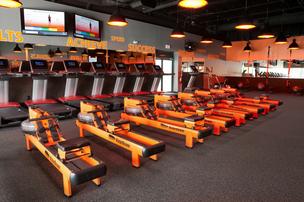 1. You wear a heart rate monitor during the entire workout
2. The workouts are developed by a team of doctors in Florida.
3. Each workout is 60 minutes.
4. Any skill level can take the classes.
5. The average calorie burn is between 300-600 calories per workout for women. (Brooke and I both burned more than 600!)
6. The workout is split into three parts: treadmill, rowing machine and strength training
7. Everyone's heart rate is displayed during the entire workout on a big screen in the front of the room.
8. The trainer gives you a "target heart rate" to aim for during each part of class
9. There is fun music and the equipment is brand new.
10. After every workout, you get an email with all of your stats from class (your heart rate, how many calories you burned, etc.)
The first location is at The District. We had so much fun trying out this workout and were so sore in the days that followed. Our favorite part was the rowing machine, because it was something fun and new that definitely made us feel the burn! Tonight is the Grand Opening and they are offering all kinds of great incentives and deals to sign up. If you want to switch up your workout, you should try it out! Everyone that works there is so friendly and really helps motivate you to work your hardest during class. They have classes that range from 5:00am to 8:15pm. For more information, you can go to  www.orangetheoryfitness.com or call (801) 758-0500.
We loved it and are definitely going to sign up when the new Salt Lake locations closer to our houses are finished!
Let us know what you think.