First things first, I just have to say being a mom is the best! I feel so lucky to have sweet Lila here and every day gets more fun as she continues to grow and change. And obviously nothing beats baby snuggles all day long. That being said, the "4th Trimester" is very real and has been an interesting process. Women's bodies are incredibly resilient, but there are definitely some things that have made a world of difference that I wanted to share with you.
Grandmas: Lucky for us both Lila's grandmas live within 5 minutes. That means they visit often – especially after sleepless nights. Aside from holding and loving Lila they have offered much needed encouragement through these first few weeks of her life. I truly don't think I would have made it through the first two weeks without them.
A husband that is your equal partner in parenting. Parker wakes up at night with Lila just as much as I do (we switch off every other night), he changes diapers, knows how to give her a bath without having her squirm out of his arms, and sings her to sleep.  He has kept his same calm demeanor throughout everything which has definitely been a blessing since this momma's hormones went a little bonkers those first couple of weeks.(cue the tears) Suffice it to say I am so grateful for Parker.
A baby wrap. I spent the first 3 weeks trying to do everything with one hand because the little lady demands that she is held at all times. Bless the heavens above for baby wraps! She fits into it snug as a bug and I have both of my hands back so I can at least brush my teeth! Parker even wore her in it this week while he aerated our lawn! #bestdad
A stroller. It doesn't have to be a fancy one. Just something that can get you both outside for some fresh air. This has been so important for my mental health during this process. Those good vibes get flowing when you have some sunshine on your face and wind in your hair.
Minky Couture Baby Blanket. Now that the temps are dropping I am always worried that baby girl is cold. I take this blanket on all of our outings because it is small enough to wrap around her in the car seat or to have in the diaper bag just in case. And we all know that nothing tops the softness of a Minky!
Caring friends. I cannot even count how many kind friends have stopped by with dinner, a treat, or flowers. The visits have buoyed us up on some bleery eyed, exhausted days. They have made me want to be a better friend and neighbor. And yes, I cry just thinking about all of them and how much love we have felt.
The Boppy makes middle of the night feedings much more manageable thanks to the support it gives to you and baby. This is the one that I have. I also feel like it helps with back support and posture. My husband also uses it for middle of the night bottle feedings and gives it two thumbs up.
Lanolin for the nips and lips! I love the nipple cream but this lip gloss is seriously the bomb. Both heal dry, cracked skin super fast.
Belly Bandit products. I faithfully wore my wrap the first couple of weeks after delivery and it definitely made my body feel put back together again by holding everything in. It is a great precursor to a corset because it has a velcro closure which helps when your body is drastically changing in size those first few days and it is so easy to put on. I also highly recommend their shirts and dresses that are made of the most buttery soft fabric. This is the shirt I wore home from the hospital and bonus -it's nursing friendly!
Bellefit corset. After the first few weeks I transitioned to the corset which is a total confidence booster! It helps you get back into your old clothes and have a defined waist again. This is my favorite one. I can honestly say I plan to wear it faithfully for the next six months because I love it so much.
I have so much respect for all of the parents out there! I am all for products that make it easier to take care of your little ones. If you have any recommendations let me know so we can all help each other!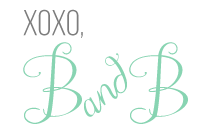 Share and Enjoy